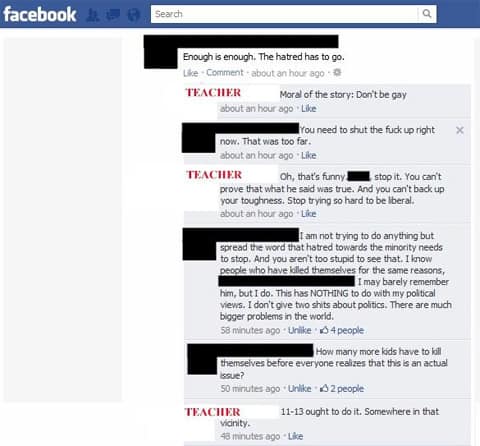 Earlier in the week, I posted about Jim Whitney, a teacher at Joplin High School in Missouri, whose anti-gay remarks on Facebook were brought to light. Whitney was commenting on a former student's link to an article about gay teen bullying victim JAmie Hubley, who committed suicide earlier this month.
Said Whitney: "Moral of the story: Don't be gay."
When another commenter asked, "How many more kids have to kill themselves before everyone realizes that this is an actual issue?," Whitney responded, "11-13 ought to do it. Somewhere in that vicinity."
The school now says Whitney has been cleared, and claims his Facebook was hacked:
"We've investigated and found no wrong-doing on the part of the teacher."
Joplin Superintendent Doctor CJ Huff tells News Talk KZRG complaints were made about things high school math teacher Jim Whitney allegedly posted on Facebook. But apparently Whitney's Facebook account was hacked.
"It's unfortunate when you're dealing with social media and dealing with technology and the potential for people to get on to other people's accounts and say things that shouldn't be said."
Huff says the Joplin School Board was made aware of the situation at Tuesday's board meeting and no action was taken.
Do you believe them?
If you thought your account was hacked, wouldn't you say so right from the start?
Whitney's original statement to the press didn't: "I do not condone bullying or harassment of any kind and I am very aware and saddened by the negative impact this type of behavior creates. I regret that the posts appeared on Facebook. They do not reflect my personal views and I apologize for any and all offenses caused by the comment."