A federal judge has ruled in the long-running battle over the names of people who signed petitions for Protect Marriage Washington to get Referendum 71 on the ballot.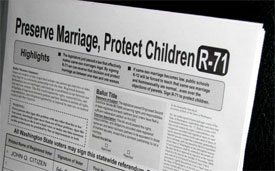 The measure, which asked voters to approve or reject expansion of the state's domestic partnership law, granting registered domestic partners the rights of marriage, was approved to the anti-gay group's chagrin in November 2009. They have been battling to keep secret the names of those who supported putting it on the ballot ever since.
Protect Marriage Washington argued that disclosure of the names would put those people in danger.
The Seattle-PI reports:
Voter petitions that put anti-gay Referendum 71 on the ballot must be made public by the Secretary of State's office, a federal judge in Tacoma ruled on Monday.
U.S. District Judge Benjamin Settle ruled that the group Protect Marriage Washington is not entitled to an exemption from the state's Public Records Act. The case, Doe v. Reed, earlier reached the U.S. Supreme Court.
"Doe (plaintiffs) has only supplied evidence that hurts rather than helps its case," Judge Settle, a George W. Bush appointee, wrote in his ruling.
***
The judge minced no words, rejecting plaintiffs' arguments that disclosure would subject to harassment or persecution those who signed R-71 petitions.
"Doe has not supplied competent evidence or adequate authority to support its claims that R-71 signers constitute a fringe organization with unpopular or unorthodox beliefs or one that is seeking to further ideas that have been historically and pervasively rejected and vilified by both this country's government and its citizens," he wrote.
UPDATE: The state has released the names.
The Washington State Archives provided a DVD to The Associated Press on Monday showing the 138,000 signatures for Referendum 71. The disclosure came just a few hours after a federal judge ruled that the signers are unlikely to face harassment.