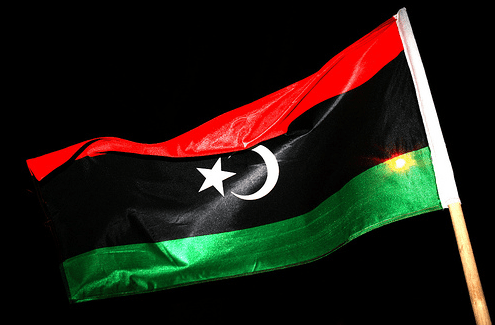 The New York Times, reporting from Benghazi:
… The sea of flag-waving citizens reacted with shouts of "God is great;" minutes earlier, they had sung the bouncy Italianate national anthem used before Col. Muammar el-Qaddafi came to power. The song has been revived to help celebrate the downfall of the dictator, who was killed on Thursday.

Two strands — a new piety and all-purpose, free-wheeling euphoria — dominated the hastily improvised ceremony, which was intended to put a cap on Libya's bloody upheaval and mark the beginning of the country's transition to something approaching normalcy …

… "We are an Islamic country," Mr. Abdel-Jalil, the chairman of the Transitional National Council, said as the sun descended. "We take the Islamic religion as the core of our new government. The constitution will be based on our Islamic religion."
Still, the Times reports, the crowd was ecstatic, shouting the praises of freedom. As they yelled and sang, Abdel-Jalil promised to cap interest on bank loans and reinstate Qur'anic polygamy.