I've posted about Bradford Wells and Anthony John Makk here before. Wells and Makk have lived together for 19 years, were married seven years ago in Massachusetts, and are fighting a battle with U.S. immigration so that Makk can remain in the country.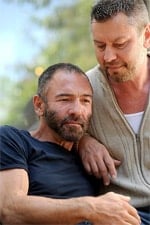 Yesterday, they went to Capitol Hill:
On Wednesday, the couple met privately in Washington for half an hour with their representative, House Minority Leader Nancy Pelosi, visited congressional offices and headlined an evening reception by Immigration Equality, the group giving them legal aid in their fight.
"I'm as married as any other married man in this country," Wells said Wednesday at a briefing for congressional staff. "My marriage is legally recognized in the state I live in. But the government is forcing me to choose between losing my family or losing my country."
Wells, as you may recall, suffers from HIV-related medical issues and Makk is his chief caregiver. Makk is now in the country illegally, the SF Chronicle adds, after his VISA ran out on August 25.