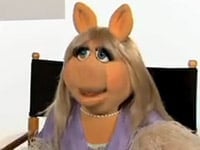 Seems that some of the original team aren't too pleased with the new takes on the iconic felt characters. Frank Oz, who used to voice Miss Piggy and told British site Metro. 
"I wasn't happy with the script. I don't think they respected the characters. But I don't want to go on about it like a sourpuss and hurt the movie."
I'm still excited to see it but if they misrepresent Miss Piggy, there will be karate chopping.

Antenna has an interesting piece on Glee and the show's failure at subverting traditional gender notions with the recent storyline about Kurt and Blaine's auditions for the school's production of West Side Story.

The most horrifying Anne Hathaway moment you've ever seen.

Moving on to something decidely more adult, Fox Searchlight has a tough job on its (admittedly capable) hands, trying to sell the sex-addiction drama Shame to Oscar voters (both Michael Fassbender and Carey Mulligan are sensational in it)… never mind the public, since it will most certainly get an NC-17 rating. Anyway, isn't it time that an adults-only rating wasn't a shameful thing for serious filmmaking?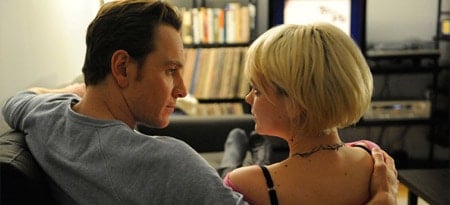 The ever funny Pajiba is conducting ascientific study of hotness, the "exploding ovaries edition", though men are also welcome to record their reactions to these hot photos of actors playing daddy.

 Joseph Gordon-Levitt may join the starry mostly-male cast of Quentin Tarantino's racially charged Django Unchained. Someone sent me the screenplay… but I'm not sure I want to spoil the movie? It's always such a gift to hear Tarantino's dialogue for the first time.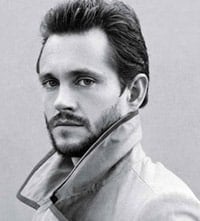 Mark Harris, the author of "Pictures at a Revolution" (always on top of my list of recommendations for those interested in insightful books about the movies) recently made suggestions of three Oscar rules that need to change. I'd love to co-sign. 

Finally, if we can't always have out actors like Zachary Quinto playing gay roles, can we please have more straight actors like Hugh Dancy who is just so damn good at playing gay and can do it with so little angst? Mr. Claire Danes speaks with Out magazine about his career and the sexuality of his characters.
He's a wonderful actor. To tie this post up with a pretty bow, Mr. Dancy also happens to co-star in this week's must-see Martha Marcy May Marlene where he plays the husband to Martha's sister Lucy (played by the out actress Sarah Paulson). Olsen is the star attraction but Paulson and Dancy generate a compelling portrait of a marriage shaken up by an unexpected houseguest.