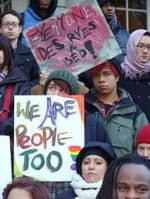 NYC's largest homeless shelter for LGBT youth, the Ali Forney Center, is holding a rally from 6-8 pm this evening in Union Square:
On October 24th the LGBT community will come together and rally to support our most vulnerable youth and demand that every homeless youth in NYC be provided safe shelter. We will come together to affirm the basic human value of our youth and to assert that they should not be thrown out of their homes, nor should they be left on the streets without shelter. We want our elected officials to hear loud and clear that we are a community that will seek to protect our teens.
The center writes: "Today for the first time in AFC's history our waiting list went over 200 youths. The need for more shelter for homeless queer youth is huge and growing. Help us demand an end to this injustice tonight!!"