Fort Worth's Rainbow Lounge, the site of a 2009 Stonewall-style police raid that made national headlines, was the scene of a brawl late last night during which a law enforcement officer was assaulted, the Star-Telegram reports: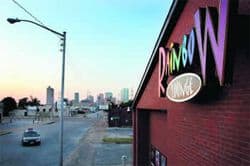 An on-duty Fort Worth police officer was assaulted during a fight at the Rainbow Lounge early Sunday but was not injured, police said. The brawl was reported at about 2:30 a.m. Sunday at the lounge, 651 S. Jennings Ave. Four men were arrested and accused of offenses ranging from public intoxication to resisting arrest, according to the reports.
A 22-year-old man was taken into custody and accused of assaulting a public servant, the reports said.
Fort Worth officer assaulted at gay bar [star telegram]