Freedom to Marry reports that Senate Judiciary Committee debate on the Respect for Marriage Act, which would repeal DOMA, is set to begin on November 3.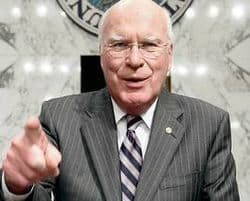 Senator Patrick Leahy, who announced earlier in the month that the bill would receieve a mark-up, announced today that debate on legislation to repeal the so-called Defense of Marriage Act will start at the beginning of next month. The Committee held the first-ever hearing on repealing DOMA in July, where Freedom to Marry's President Evan Wolfson testified and called on Congress to end the discriminatory law once and for all.
There's certainly ample support for the Respect for Marriage Act amongst members of the committee, as all 10 member Democrats have already signed on as cosponsors to the bill.
The Committee held hearings on the Respect for Marriage Act in July.