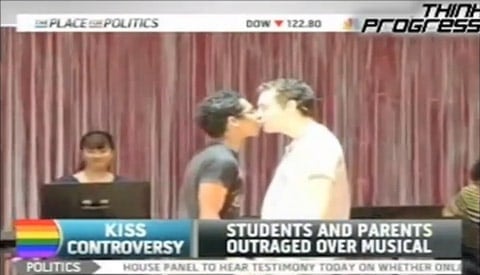 Last week I wrote about the Hartford High School production of Zanna Don't which made headlines after a gay kiss prompted some students to walk out.
MSNBC's Thomas Roberts spoke today to The Family Institute of Connecticut's Peter Wolfgang about the production, who called it a "forced indoctrination" of homosexuality on students, Think Progress LGBT reports.
"What people in the other 44 states that don't have same-sex marriage need to know is that if you get same-sex marriage, this is coming to your state. You will not have the right to decide for yourself what your children will be taught about right or wrong."
Kamora Harrington, director of mentoring programs for True Colors, countered that many students were supportive of the production and the kiss got a dialogue going about tolerance.
Watch, AFTER THE JUMP…