As investigations continue into the gruesome murder of gay Scottish barman Stuart Walker, who was found beaten and burned in a rural area over the weekend, more details on Walker's background have begun to emerge, including one detail that police say is unrelated but is being reported widely: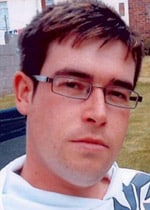 However, it has come to light that the 28-year-old had only recently been questioned over an alleged incident involving a 12-year-old boy in August and a report was sent to the procurator fiscal. Police have stressed that there does not appear to be any link between the claims and Mr Walker's murder.
A Strathclyde Police spokeswoman said today: 'There was a report sent to the procurator fiscal in relation to an alleged indecency on a 12-year-old boy. There's no suggestion that this incident is in any way connected to the murder.'
A spokesman for the Crown Office and Procurator Fiscal Service added: 'We can confirm that the Procurator Fiscal at Ayr received a report concerning a 28-year-old male in connection with an alleged incident on 20 August 2011. The case is now closed.' It is believed that there will be no further investigation into the incident.
Gay barman who was murdered and set on fire was facing child sex probe [daily mail]
Murdered Stuart Walker faced indecency allegation [bbc]
Gay murder victim Stuart Walker was questioned over child indecency [pink news]