A teenager has been arrested in connection with the murder of gay Scottish barman Stuart Walker. Walker's body was found beaten and burned in a rural area outside Cumnock in Ayrshire in Scotland early on Saturday after spending a night out with friends.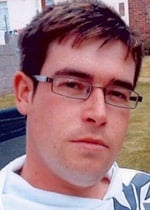 STV reports:
Strathclyde Police confirmed the man was taken into custody on Thursday evening, less than a week after Mr Walker's body was discovered at an industrial estate in Cumnock, Ayrshire.
A police spokeswoman said: "We can confirm that an 18-year-old man is currently detained in connection with this inquiry."
No further details have been offered.
Divisional Commander John Thomson of the Strathclyde Police said earlier this week that the victim's lifestyle was the "main focus" of his inquiries: "I don't think it was a random attack by someone who will strike again. I suspect Stuart may have known this individual or met this individual shortly before his death."
UPDATE: Those allegations that Walker was facing an indecency probe were reportedly made by a malicious liar. "But the Record can reveal the man who made the allegation was a 44-year-old with a long criminal record including rape, assault, car theft and housebreaking. And prosecutors planned to throw out the case. The man who lodged the complaint cannot be named because it would identify his son, the subject of the allegation."