New York Governor Andrew Cuomo spoke before a crowd of 1,200 last night at the Sheraton New York Hotel and Towers at the Empire State Pride Agenda (ESPA)  dinner, and called for marriage equality across the country, the NYT reports: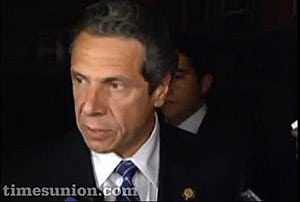 Shifting his sights beyond New York in a way he has not done before, Mr. Cuomo demanded that the federal Defense of Marriage Act be repealed. His voice rising in intensity as he spoke, he also called for federal legislation that would bar discrimination against gay men and lesbians in housing and employment.
And in his most forceful terms to date, Mr. Cuomo called for his counterparts across the country to embrace what he framed as an issue of equal rights and to push for the legalization of same-sex marriage in their own statehouses.
"We need marriage equality in every state in this nation," Mr. Cuomo said. "Otherwise, no state really has marriage equality, and we will not rest until it is a reality."
Watch (via Think Progress) a NY1 report on the speech, AFTER THE JUMP…
Shortly after Cuomo's successful push to legalize same-sex marriage in New York there was lots of talk about how it might help a potential presidential bid by the governor in 2016.
David Mixner takes a look HERE at the next steps envisioned by Executive Director Ross Levi for ESPA.