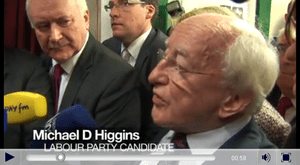 Michael D. Higgins, of Ireland's Labour Party, won yesterday's presidential election. The race's much-publicized gay candidate, the independent David Norris, was the first to call Mr. Higgins with his concession.
Norris, a one-time front runner whose campaign was undone by a series of minor scandals, was gracious in defeat. According to Independent.ie:
"When you have such a concentration of power in the hands of the Coalition I think it's good to have somebody who will be in a position morally and intellectually to speak out on behalf of the marginalised," [Norris] said. "I know that Michael D. will do that. So I'll be very happy to be an Irishman under the presidency of Michael D. Higgins."
Mr. Norris's good cheer and fellow-feeling was echoed by the other candidates. Note: In the Independent's video reportage, the defeated candidates manage to refrain from calling the victorious Mr. Higgins a Marxist, socialist, Nazi, or tyrant.