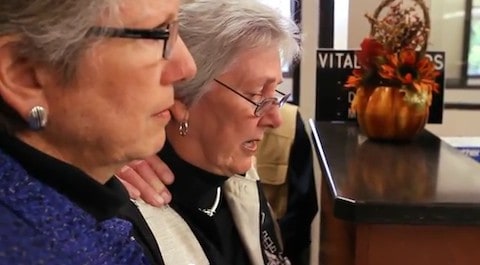 Earlier this month I mentioned the "We Do" campaign in which couples have been pursuing marriage licenses around North Carolina, with little luck.
Yesterday, the campaign released a video of some of its efforts. Watch it, AFTER THE JUMP…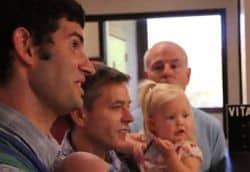 Things are about to get real:
Since the WE DO Campaign launched on October 3, eighteen same-sex couples have requested – and been denied – marriage licenses at the Buncombe County Register of Deeds Office in Asheville, NC. The purpose of the campaign is calling for full equality under federal law for lesbian, gay, bisexual, and transgender (LGBT) people and resisting an unjust state law in North Carolina that prohibits marriage equality. Momentum around the campaign grows each day and the campaign's first video has been viewed by over 5,500 people in the 24 hours since its release on October 12. Clergy and volunteers are arriving from across North Carolina and the United States to participate in a public, interfaith blessing for LGBT families. This will be followed by a large public action including a planned act of civil disobedience. The WE DO Campaign will be expanding to other communities in North Carolina in coming months.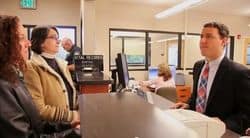 Today, another couple will ask for a marriage license at noon:
On October 14, the final day of this phase of the campaign, Rev. Joe Hoffman and Rev. Cartledge will lead a public, interfaith blessing of all LGBT families at Roger McGuire Green, in front of the Buncombe County Courthouse. They will be joined by clergy from across faith traditions and from across the country. Following the blessing, clergy and community members will lead a large public action, which will be followed by an act of civil disobedience.
JOIN THEM TODAY in Asheville, if you can.
Watch many couples asking for marriage licenses and being rejected in NC,
AFTER THE JUMP…
An amendment to ban same-sex marriage constitutionally will go before Morth Carolina voters in May 2012.