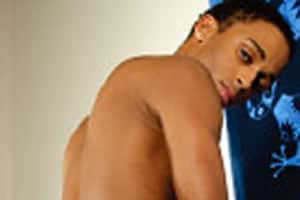 Remember Kameryn Gibson? He's the broke 18-year-old from Indiana who posted a Craigslist ad soliciting "sugga daddies," and somehow landed himself a towel-draped Republican pol of such overwhelming skeeziness that, when it came time to do the deed, Mr. Gibson couldn't perform. Well. It seems Mr. Gibson is broke no longer.
On Top Magazine reports that Mr. Gibson is now performing for two gay porn studios, CocoDorm and ThugBoy, under the name of DeJuan Diamond. According to the mag, Gibson's talent agency, Flava Works, has released a statement which reads, in part:
It is no secret that many Republicans are closet homosexuals, while at the same time preaching anti-gay messages and protesting gay marriage. Now with DeJuan Diamond starring online … Republicans will be able to enjoy the men they love right from the comfort of their home or offices.
Witty! Vicious! But, hey, Kameryn, if you're reading this: Please don't take Flava Works PR braggodocio too seriously. What you're doing is fine, but it ain't activism, and as happy as your new associates are to rep you now, they probably won't care much in five years. Do yourself a favor, and use this brief reprieve from unemployment to get a degree or some vocational training, or just to do some serious thinking about what you want out of life. You've got some breathing room now. Use it wisely, or you'll be back on Craigslist in no time.