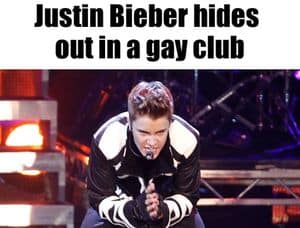 According to News Corp UK tabloid The Sun, Justin Bieber is using gay clubs to find refuge from paternity claims.
What's the best way to knock back rumours you've fathered a love child? Go for a night out on the shandy at "Europe's hottest gay venue". Justin Bieber knocked back allegations he's the father of a lovechild from a 30-second knee trembler with the camp night out in Belfast. After winning two gongs at the MTV EMAs on Sunday, he did some more high-profile work on his defence, by choosing to spend the early hours of Monday morning in gay club Kremlin.
Bieber also entered through a back door, and The Sun couldn't resist:
No jokes about the tradesman's entrance, please.
And don't you know, those gay clubs are dangerous places for young men:
Not exactly the best place for some peace and quiet for an angelic looking young 'un in a city far from home.
Justin Bieber hides Out in a Gay Club [the sun]