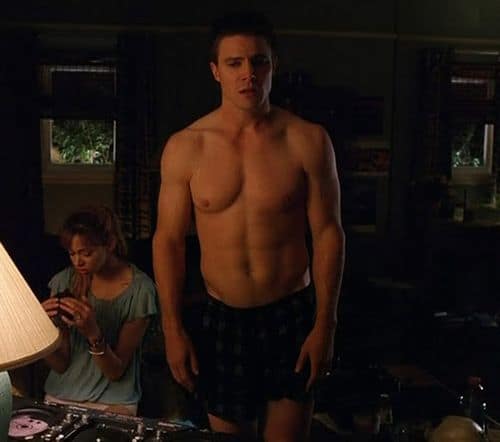 E!'s Marc Malkin reports that Stephen Amell, the former Vampire Diaries hottie who now has a barely-clad gig on Hung, has a slight obsession with the sock-like garments he has to cover his manhood with when he does a scene:
"I get super naked, so I made a joke that I was going to take them and nail them to the wall of my apartment," the hunky 30-year-old tells me. "Can you just imagine someone looking at them and saying, 'What is that?' "
Amell, who played werewolf Brady on Vampire Diaries, joined the show this season as a new male hooker who threatens to cut into Ray's business because he may be open to male clients.
"The most awkward thing from Hung is that in my audition, in a boardroom with a lot of executives watching, I had to simulate sex with a someone that I've just met for the first time. Once I got through that, I could get through anything."
On the other hand, it seems like he doth protest too much: "When you're wearing one, you'd almost rather be naked because it's kind of embarrassing. You're just standing there in this thing and it's just super awkward."
One more shot of Amell getting horizontal, from Episode 3, AFTER THE JUMP…
(top screenshot via groopii)