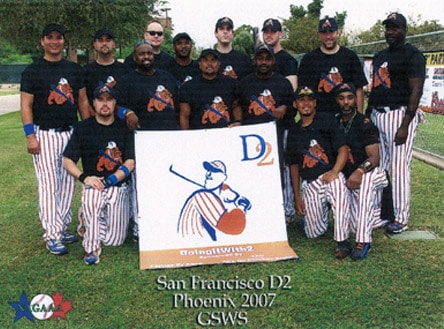 You may recall the lawsuit brought against the North American Gay Amateur Athletic Alliance (NAGAAA) by three bisexual softball players and the NCLR alleging that NAGAAA discriminated by stripping the players' team of their second place finish in the Gay World Series after discovering the players were bisexual.
The players have now settled for an undisclosed sum, and the return of their second place trophy.
NCLR discusses the suit and the settlement in a press release:
The players were called into a conference room, where they were questioned in front of more than 25 people, most of them strangers, about their sexual orientations and private lives. The players were forced to answer whether they were "predominantly" interested in men or women, without being given the option of answering that they were bisexual. In response to a player's statement that he was attracted to both men and women, a NAGAAA member who was in the room stated, "this is not a bisexual world series—this is a gay world series." NAGAAA's protest committee voted that the three plaintiffs were "believed to be heterosexual," and their team was disqualified from its second place finish.
In the settlement, NAGAAA recognized that disqualifying the players from the 2008 tournament was not consistent with NAGAAA's intention of being inclusive of bisexual players. NAGAAA now recognizes the players' team—D2—as a second-place winner of the 2008 Gay Softball World Series, and will award the team a second-place trophy. In the settlement, NAGAAA also expressed regret at the impact the 2008 protest hearing process had on the players and their team. NAGAAA confirmed that its records will be amended to reflect the players' participation in 2008, including the results of all games played by their team.
The players recognize positive advances made by NAGAAA, which in 2011 changed its rules to be fully inclusive of all bisexual and transgender players. The rule changes permit an unlimited number of bisexual or transgender players to participate on a Gay Softball World Series team.