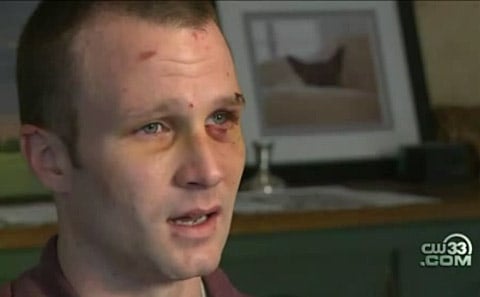 Burke Burnett has spoken out to KDAF-TV about the attack last weekend in which he was stabbed, beaten, and thrown onto a fire.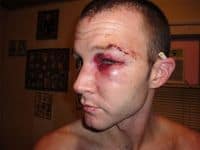 Said Burnett, his voice breaking: "I'm taking it one day at a time trying to do the next right thing."
Three suspects are now in custody:
Daniel Martin, James Mitchell Laster and Micky Joe Smith are being held on $250,000 bond each.
Reno's mayor William Heuberger calls the attack appalling. He says his sympathy goes to the victim and no one deserves this kind of treatment. The penalties could be increased to include a hate crime. "At the end of the day, the jury will make a finding that it qualifies as a hate crime or if the judge will make that finding", said Burnett's attorney Dan Haslam.
Burnett says he's concerned about getting well and he'll let the justice system do its job. "I haven't prayed enough about that yet to know exactly what I want done to these people. But it's not my job to decide what justice for these guys is", he said.
Watch Burnett's interview, AFTER THE JUMP…