Three men have been sent to prison for five years in Cameroon after being caught having sex, AFP reports: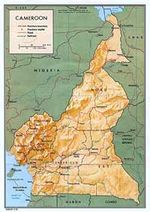 The Ekounou court sentenced the three on Tuesday to five years imprisonment and a fine, the heaviest sentence provided by Cameroonian law, which bans homosexuality, Michel Togue told AFP. Two of the convicted men were present for the ruling but the third was sentenced in absentia, said Togue, who added he had appealed the decision.
"It's a bad ruling because it is a blatant violation of the law," the lawyer said, citing procedural technicalities when the guilty verdict was handed down.
He also accused the judge of peppering the hearing with homophobic innuendos. The three were allegedly caught in the act in a vehicle in July.
In September, five human rights groups called on the president of Cameroon, Paul Biya, to end detentions, arrests and harassment of its citizens based on real or perceived sexual orientation and gender identity.