Many of you will recall the anti-gay Tennessee bill passed last year prohibiting local municipalities from enacting their own non-discrimination statues and forcing them to rely on state law. It also voided a Nashville ordinance barring companies that discriminate against gays and lesbians from doing business with the city. The Tennessee Chamber of Commerce was convinced to lobby for the bill, but then withdraw its support after LGBT groups reacted.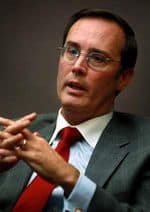 Now it has emerged that the chief lobbyist for the anti-gay Tennessee bill went out of his way to actively hide the fact that it would hurt gay people in order to pass it, the Tennessean reports:
Supporters of the state law said it was a pro-business measure aimed at ensuring that companies would not be confronted with conflicting policies from city to city across the state. On Monday, Fowler said the Family Action Council fought for the legislation — even though promoting business is not one of the organization's stated purposes — because a strong economy is good for traditional Christian families.
His emails, however, reveal other concerns.
"Metro Council here in Nashville is considering requiring private businesses that do business with the city and those who lease property from the city have an employment policy to protect homosexual conduct and cross-dressing, etc.," Fowler wrote in a Jan. 26 email to individuals including state Sen. Jack Johnson, R-Franklin. Fowler described how he hoped to persuade the Nashville Area Chamber of Commerce to oppose Metro's planned ordinance. "Metro passed its homosexual ordinance for Metro employees by 24 to 15 in 2009 so the Council is clearly liberal. Please do NOT pass this on to anyone who you think might in the slightest pass it to anyone else," Fowler continued later in the email. "We've learned that some folks we thought were friends cannot be trusted and we don't need the Chamber backing off because it starts to appear to be too much of a Christian, right wing, homosexual issue rather than a business/economic issue."
Lobbyist minimized gay issue in fight to overturn anti-bias policy [the tennessean]