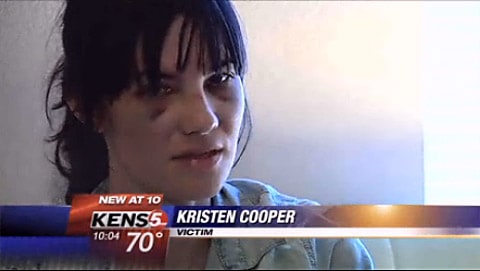 There have been WAY too many stories like this lately.
Kristen Cooper, a student at the University of Texas San Antonio says she was beaten by two men who grabbed her and dragged her into their truck while she was waiting for a ride outside a Halloween party. The men, she said, began punching her, KENS5 reports.
"It was bad, it hurt really bad, it was like full fist and I tried to fight them off, but I couldn't," said Cooper.

Cooper said the men eventually dropped her off near 1604. Without a phone she claims she walked along the roadway until someone spotted her and called 911. Cooper said the only thing the men knew about her was that she was gay and during the beating she claims they were calling her anti-homosexual slurs.
Sorry, video embed not working. Watch it HERE.