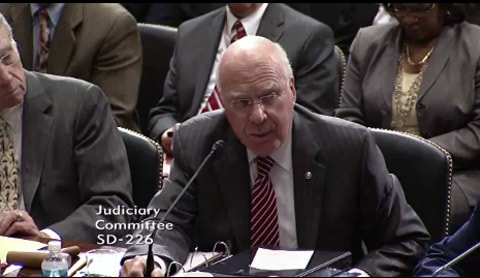 Mark-up of the Respect for Marriage Act has been pushed to 10 am on November 10, following some discussion of the measure in the Senate Judiciary Committee today, MetroWeekly reports:
In opening the hearing, Chairman Patrick Leahy (D-Vt.) said of the Respect for Marriage Act's aim, in part, "What would change, and what must change, is the federal government's unequal treatment of state-approved marriages."
Sen. Dianne Feinstein (D-Calif.), the lead sponsor of the Respect for Marriage Act, opened her comments at the hearing by saying, "I voted against [DOMA] for the same reason then, that I [support] repeal now.
Watch today's DOMA hearing (via Think Progress) in full, AFTER THE JUMP…
The scheduling move was procedural, and somewhat expected.

A short time later, House Speaker Nancy Pelosi tweeted, "Update on fighting #DOMA: Me + 132 House Dems just filed an amicus against this discriminatory law." with a link to an amicus brief filed in the Gill v. OPM and Massachusetts v. HHS cases by the lawmakers.
Here's the brief (PDA). It begins:
Some amici voted against the Defense of Marriage Act ("DOMA"), Pub. L. No. 104-199, 110 Stat. 2419 (Sept. 21, 1996), while others voted for it; still others were not in Congress when DOMA was enacted. But all believe, today, that Section 3 of DOMA, which defines marriage for all feder- al purposes as "only a legal union between one man and one woman," lacks a rational relationship to any legitimate federal purpose and accordingly is unconstitutional.
Having concluded that Section 3 fails to fulfill the equal protection component of the Fifth Amendment, amici wish to share their unique perspective on why this is so. Amici also wish to make clear that the Bi- partisan Legal Advisory Group ("BLAG"), which has intervened in this case to defend Section 3's constitutionality, does not speak for a unanim- ous House on this issue. While Speaker Boehner has the authority to di- rect the defense of DOMA by virtue of the divided 3-2 vote of the BLAG, many Members believe that Section 3 of DOMA violates the Constitution and should be struck down.
Yesterday on CNN, Equality Matters President Richard Socarides talked about where we stand on efforts to repeal DOMA and what its chances are in the future.
Watch Socarides and the DOMA hearing, AFTER THE JUMP…