Transgender activists targeted Dan Savage for the second time in a couple of weeks with a glitter-bombing, this time at a speaking engagement at UC Irvine.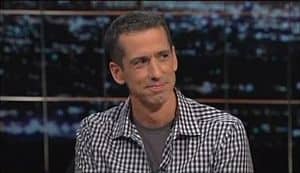 Savage responds in a lengthy blog post over at Slog:
It's clear from the transcript—and it's clear from the way that my remarks are being actively and maliciously misrepresented—that the people pushing this "Dan Savage is transphobic!" meme are not honest actors. False accusations of engaging hate speech are themselves a form hate speech—particularly in the hothouse environment of LGBT activism. Any honest reader of my column, like any honest person who attended my Q&A at UCI, knows that not only I am not transphobic, I'm pretty rabidly pro-trans.
Or: If I'm the enemy of trans people everywhere, trans people everywhere could use more enemies like me.
On Glitter, Transphobia, and Hate Speech [dan savage]