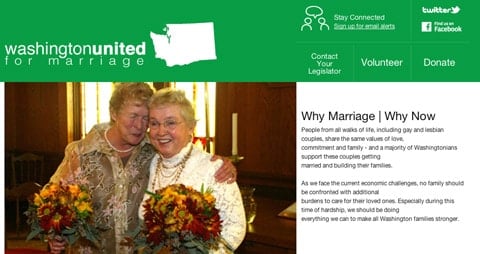 Here's Washington United for Marriage's Official Site.
The group kicked off efforts yesterday to achieve marriage equality in the state by next year:
Washington United for Marriage marks the ultimate step toward achieving the freedom to marry for lesbian and gay couples in Washington. The long list of supporting members includes faith-based organizations such as the Faith Action Network and Jewish Federation of Greater Seattle, unions including SEIU Washington State Council and UFCW 21, and numerous advocacy organizations and business associations across the state.
The grassroots effort is led by a group of the state's leading human rights organizations, including the American Civil Liberties Union of Washington, Equal Rights Washington, Human Rights Campaign, Legal Voice, and Planned Parenthood Votes Northwest.
"The freedom to marry the person you love is fundamental to a democratic society," said Jennifer Shaw, deputy director of the ACLU of Washington. "The ACLU has joined Washington United for Marriage because it is a matter of basic fairness that all loving, committed couples should be able to marry."
Washington United for Marriage will lead the statewide effort to educate and advocate for the freedom to marry for all Washingtonians. The coalition will mobilize constituents to talk to their legislators before and during the 2012 legislative session to ensure that the majority of Washington state citizens who support marriage equality have their voices heard. The goal is to have legislation legalizing civil marriage for lesbian and gay couples passed by the Legislature and signed into law by Gov. Chris Gregoire next year.
Here's how you can get involved through the Pride Foundation.