Will Eddie Murphy stay on as Oscar host now that Brett Ratner has stepped down?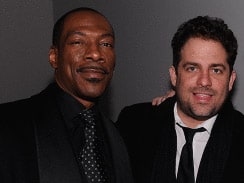 In a recent Rolling Stone article, Murphy said, "I only want to do what I really want to do, otherwise I'm content to sit here and play my guitar all day. I always tell people now that I'm a semi-retired gentleman of leisure, and occasionally I'll go do some work to break the boredom up." It makes one wonder if seeing his Tower Heist director vanish will make the Oscars fall into the category of things Murphy doesn't "really want to do." One well-placed Academy member intimately familiar with the Oscar telecast explains to Vulture that the odds of Murphy remaining as host have now dropped to even money, because now he can step down with minimal PR damage: "It's like when Mike Nichols asks Meryl Streep to do a movie, and then suddenly, Mike Nichols is not doing the movie anymore," says our source. "There's no reflection on her if she then steps away from the project. But [Murphy] would have to do it fast, before a new producer is named. Otherwise, that's just, well … that's just shitty."
The AP makes the same note: "Brett Ratner's resignation Tuesday as producer of the 2012 Academy Awards raises questions about whether Eddie Murphy will remain as the show's host. Murphy, who worked with Ratner on the just-released comedy 'Tower Heist,' was considered an unconventional choice for Oscar host, hand-picked by Ratner to shake up the staid awards ceremony and draw in new – and younger- viewers."
Previously…
Brett Ratner Out as Oscar Producer Following Anti-Gay Slur [tr]