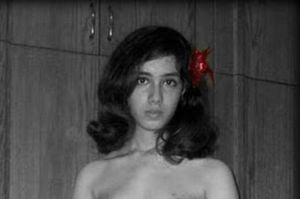 She's 20, she's an atheist, she's a liberal, and she lives in Egypt. Aliaa Magda Elmahdy's recent experiment in self-portraiture on Twitter — in which she posed in stockings, cute red shoes, and nothing else — has made her a minor celebrity and pissed off a lot of people. (She's even been denounced by the allegedly-liberal April 6th Movement, the most secular and utopian of the Egyptian groups to emerge from the Arab Spring.)
Now, Elmahdy's submitted to an interview with CNN. Harrowing fact: Elmahdy's boyfriend was sent to prison for four years for criticizing Islam. Sample exchange from the interview:
CNN: How do you see women in the "New Egypt" and will you leave the country if the ongoing revolution fails?

Elmahdy: I am not positive at all unless a social revolution erupts. Women under Islam will always be objects to use at home. The (sexism) against women in Egypt is unreal, but I am not going anywhere and will battle it 'til the end. Many women wear the veil just to escape the harassment and be able to walk the streets. I hate how society labels gays and lesbians as abnormal people. Different is not abnormal!