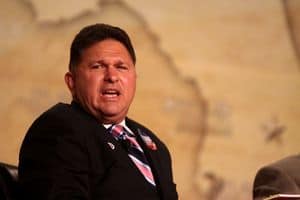 Voter turnout may diminish in Florida next year due to stringent new regulations meant to minimize "voter fraud." (Even though there never has been much voter fraud in Florida or anywhere else in the US.) But turnout will not diminish among religious folk, if John Stemberger, the president of the Florida Family Council's president, has his way. According to the Florida Independent, Stemberger has launched something called "Project Active Citizen" — an apparent effort to blur the lines between the Florida' pews and polls, teaching pastors to legally maximize their congregants' electoral clout. On his website, Stemberger writes:
What churches can do without limitation includes preaching, teaching and or studying any issue related to policy, politics and morality. You can also do unlimited voter registration drives, hand out voter guides contrasting issues; start a social issues committee; educate on viewpoints of candidates; have candidates appear at church services; and introduce candidates at church (as long as you give all candidates the same deference). What churches can not do include endorsing or oppose candidates or political party, make contributions to political candidates or PAC's; make in-kind expenditures to candidates; use of the churches name to endorse a candidate; supporting or oppose an elected judicial candidate. What can pastors do as private citizens? Anything! Remember you are still a citizen of the United States and can fully engage the process in any way in that private capacity.
According to the Independent:
[On his website, Stemberger] explicitly warns that there have been changes to Florida's voting rules that pastors need to be careful of. Unlike most groups that have engaged in voter registration drives in the past, Stemberger defends the law and says there have been "important changes to the voter registration laws enacted to avoid fraud."
It makes sense for Stemberger to defend his state's stringent new regulations — which, among other things, eliminate voters' ability to file a change of address on election day — as those regulations may be most easily overcome by religious voters, whose churches can organize voter registration drives and provide voting instruction seminars. That's precisely what Stemberger advocates. As he notes, pastors have an "army" at their disposal, and can organize the citizenry and disseminate information with an ease that non-religious voters can't hope to match.
Part of Stemberger's plan involves encouraging individual churches in his state to act as "hubs" for other churches nearby — providing them with get-out-the-vote literature and volunteer organizers. Stemberger hasn't said if any churches have agreed to participate, but even if they haven't, it hardly matters. Elections are still a year away.