Evansville, Indiana just got a lot more progressive: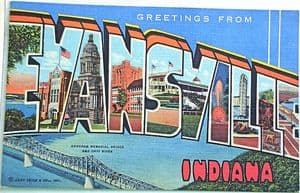 Age, sexual orientation and gender identity were categories added Monday night to Evansville's nondiscrimination code by a unanimous vote of council members. Other categories included in the code include race, religion, color, disability, ancestry and national origin.
The ordinance, amended during Monday night's City Council meeting, provides for equal opportunity for all citizens in the areas education, employment, access to public conveniences and accommodations and the purchase or rental of real property. The approved ordinance also defined sexual orientation as being male or female sexuality, homosexuality, bisexuality, real or perceived, by orientation or practice.
Tri-State Alliance President Wally Paynter said his organization had worked with the city's Department of Human Relations to make the changes a reality.
Evansville adds sexual orientation to nondiscrimination ordinance [courier press]