Gay-hating has now been dragged into the fake Kardashian marriage, Life & Style reports: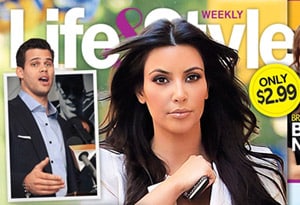 Life & Style has learned that Kris is particularly concerned about explosive footage of him bullying Kim's best friend Jonathan Cheban — scenes that stand to tarnish Kris' wholesome Midwestern image. "Midway through the season, Kris starts bullying Kim's best friend, Jonathan Cheban, about his sexuality," shares a Kim pal. "Jonathan isn't gay, but Kris accuses him of being gay and criticizes him for it in a really homophobic way. Jonathan is really upset."
As is Kim. "Kris used the word 'gay' as an insult, to try and hurt Jonathan," an E! insider tells Life & Style. "He's the lowest of the low bullying someone like this."
While it's too late for him to stop the premiere from airing, Kris has retained lawyer Lee Hutton III and is trying his hardest to prevent the most inflammatory moments from being broadcast.