Chris Colfer speaks to TV Line about losing his TV virginity, AFTER THE JUMP…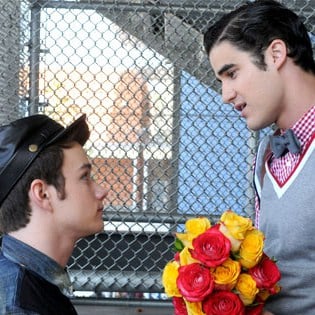 TV Line:
Prior to getting the script Ryan approached Darren and I and told us that they were doing a virginity episode, and Darren and I just kind of looked at each other with wide eyes like, "Huh? What?' And while we always have faith in the writers, we were a little skeptical. But then we got the script and shot it and everything was fine. What I thought could be raunchy and over-the-top was just very sweet and emotional. That's kind of how it is with Glee. Ryan will come up and tell me they're [tackling] this big, sensitive issue and I'll freak out. But then I have no reason to freak out because it's always handled really well.
I was totally [prepared] to have to do a shirtless scene. Or at least wear like a tank [top] or something. I even asked if I could wear a tank and they said no. I think having two gay guys having sex on television was enough. They didn't want to [reveal] a bunch of skin on top of it. I was like, "I want to wear a tank! Let me wear a tank!" [Ultimately], I wore a T-shirt.
He adds, to E!'s Jenna Mullins:
Yeah, I was expecting to being showing some skin but we got there and they wanted Darren in a tank and they wanted me in a shirt, so I don't really have to worry.
I really hope that if Kurt and Blaine do anything for society or the world or anything like that, I really just hope it kind of sets the standard for gay kids. I don't mean to upset anyone by saying this, but it is just kind of a known fact that a lot of gay kids are very promiscuous and non-exclusive with each other when they have relationships, which is really sad. But I think with Kurt and Blaine, I would hope would set an example of what something should be and could be. You know, two people finding each other and really loving each other and wanting to give the world to each other.
More at TV Line about the gay bar scene with Kurt and Karofsky (Max Adler), and the full E! interview is here.