Jeremy Hooper reports that Family Research Council has joined NOM in Iowa endorsing special state Senate election Republican candidate Cindy Golding in hopes to topple marriage equality: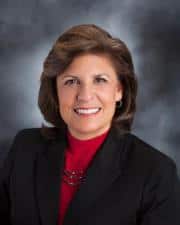 Over the weekend, the Family Research Council joined the National Organization For Marriage in offering an official endorsement to Iowa Republican Cindy Golding (right) in her quest for a state Senate seat. Both groups are getting into this hyperlocal race for one reason and one reason only: Because they hope if Golding triumphs over Democrat Liz Mathis is tomorrow's special election, she will put the state's benign, peaceful, court-tested marriage equality before a public referendum.
Golding will accept their endorsement today even though she's spoken out against meddling in the election by outside interest gorups.
The numbers aren't looking positive for Golding:
Public Policy Polling reports:
Democrat Liz Mathis leads Republican Cindy Golding 52-46 in our poll taken over the weekend.
The numbers suggest that Mathis is just a stronger candidate than Golding. Voters in the district are split right down the middle, 44/44, on whether they'd rather Democrats or Republicans had control of the State Senate.  But Mathis is outrunning those numbers when it comes to how people are planning to vote on Tuesday. The big key for her is that she's taking 16% of the GOP vote from Golding, while losing only 9% of the Democratic vote.  That helps her make up for a 50-45 deficit with independents.
This election has been framed to some extent as a battle over gay marriage, but our poll suggests voters aren't seeing it that way. They're planning to vote for Mathis even as 46% of them say gay marriage should be illegal, compared to just 42% who think it should be legal. Although voters in the district may oppose gay marriage, only 11% say that issue is the most important factor guiding their vote compared to 86% who say it's something else.  It's also worth noting that 66% of voters do support either gay marriage or civil unions with only 30% opposed to all legal recognition for same sex couples.