Iowa District Judge Eliza Ovrom will hear arguments this morning in Polk County regarding two lesbian moms who want to both be listed on their daughter's birth certificate, the Des Moines Register reports: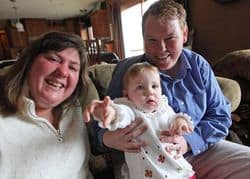 Heather Lynn Martin Gartner, 39, and Melissa McCoy Gartner, 41, of Des Moines have said the state's decision to list only Heather as a parent deprives their daughter, Mackenzie, of the protections and benefits of two legal parents being present from birth.
Attorneys for the couple have cited an Iowa Supreme Court decision that legalized same-sex marriage in 2009. The unanimous ruling cited constitutional rights to basic fairness and equal protection.
According to the paper, "State code says a mother's husband is the presumed father of a child, absent a court decision that says otherwise."
In a letter to the couple's attorneys last year, the Iowa Department of Public Health wrote that the state's laws "expressly recognize the biological reality that women and men each play a distinct but equally necessary role in human reproduction and have corresponding rights, duties and obligations to their child."
(image des moines register)