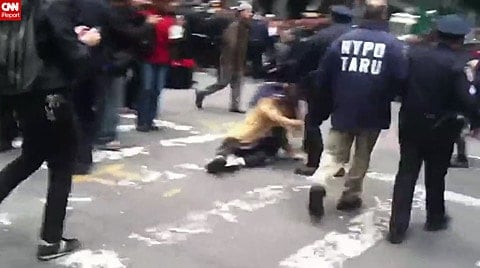 Dozens were arrested earlier today at Occupy Wall Street protests, USA Today reports.
Police said about 75 were arrested, including a woman in a wheelchair who was trying to block traffic. There was some minor scuffling as those arrested refused to walk and were carried away. Protesters had to break into two groups as they encountered police at each intersection leading to the exchange. Broadway was closed because of snarling traffic.
One video circulating on the web shows a woman being dragged across cement by police.
An iReporter on CNN wrote:  'We noticed that cops were pulling the girl by her hair. People starting yelling that it was police brutality. That's when I started filming,' he said."
The NYPD also dragged the woman by her backpack.
Watch, AFTER THE JUMP…