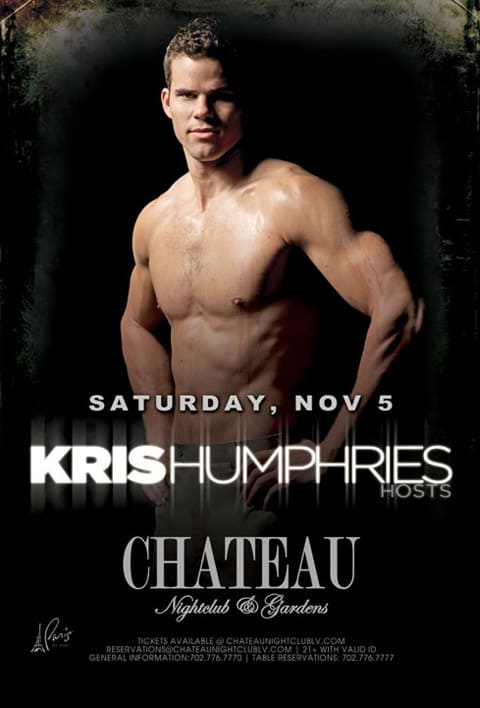 Today in Kardassian marriage-mocking news.
Here's the promo for this weekend's now canceled Vegas nightclub appearance by Kardashian spouse Kris Humphries, which you may have at first thought was a promo for the new Twilight film, or a gay circuit party. It's neither.
Still, I guess somebody perceived it as an audition:
TMZ has learned … Chippendales in Vegas has already reached out to Humphries, hoping to fill their empty celebrity MC spot at the Rio — previously occupied by ex-98 Degrees singer Jeff Timmons.

Meanwhile, Kim Kardashian wrote a ridiculously pathetic letter to her fans, begging them to stop being angry at her:
I am trying not to read all the different media reports but it's hard not to see all the negative ones. First and foremost, I married for love. I can't believe I even have to defend this. I would not have spent so much time on something just for a TV show! I share so much of my life on a reality show, that contemplating whether to even film my wedding was a tough decision to make, and maybe it turned out to not be the smartest decision. But it's who I am! We filmed Kourtney giving birth, Khloe getting married, break ups, make ups, our best moments and our worst moments. These were all real moments. That's what makes us who we are. We share, we give, we love and we are open!
 
Everyone that knows me knows that I'm a hopeless romantic! I love with all of my heart and soul. I want a family and babies and a real life so badly that maybe I rushed in to something too soon. I believed in love and the dream of what I wanted so badly. I felt like I was on a fast roller coaster and couldn't get off when now I know I probably should have. I got caught up with the hoopla and the filming of the TV show that when I probably should have ended my relationship, I didn't know how to and didn't want to disappoint a lot of people.
Mainstream media has noted the outrage from the LGBT community over the couple making a joke of the institution of marriage:
"Kim Kardashian files for divorce after 72 days. Another example of how same-sex marriage is destroying the sanctity of the very institution," joked Geoge Takei on Twitter, expressing the sentiment of many.
And Jill Goldstein and Nikki Weiss-Goldstein (former stars of The Real L Word), wrote an open letter to Kardashian asking her to support marriage equality:
Kim, we have no doubt that a woman as smart, savvy, and beautiful as you will find love and marriage again. But for the respect of the millions of people who hear about it at every turn (many of whom you rely on to build your brand) please do take into consideration the uphill battle that so many of us have to fight for marriage equality. Perhaps you can demonstrate a bit more respect for the union next time around, instead of using it as a business gain.
We leave you with this idea: Why not take a portion of the millions of dollars you earned on your wedding and donate it to the Human Rights Campaign to help fight for marriage equality? It would speak very loudly.