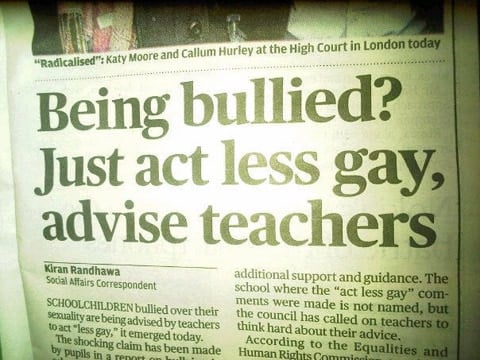 In one school district in the UK, students being bullied over homosexuality have been advised to "act less gay" and change their appearance:
In a damning report by Essex County Council, pupils revealed they had been accused of making themselves a target for bullies by choosing to behave or look differently. As well as criticising their supposed sexuality, teachers reportedly told youngsters to "wear their hair differently" if they wanted to avoid trouble.
The comments have been met with outrage by anti-bullying campaigners and gay and lesbian support groups across the county.
Jordan Newell, 27, the Colchester Labour Party chairman and a member of the Labour Campaign for Lesbian, Gay, Bisexual and Transgendered Rights, said: "I am incredibly shocked at this report.
"It is incredibly stark and paints a picture that teachers are holding up their hands and not defending pupils who are expressing their difference and they are failing to defend some pretty basic principles in terms of bullying and anti-bullying. I think the report shows a complete lack of understanding of the issue and on how to tackle bullies."
The advice echoes that of a Missouri teacher who came under fire last week (but was not disciplined, and cleared of any wrongdoing) who wrote similar remarks on Facebook. Jim Whitney, a teacher at Joplin High School in Missouri responded to former student Josh Gonzalez, who posted a Facebook link to a news article 15-year-old Jamie Hubley, who committed suicide after being bullied.
Said Whitney: "Moral of the story: Don't be gay."
(headline image via reddit)