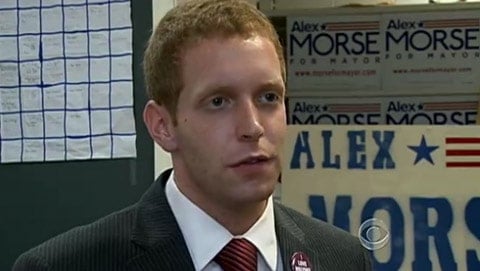 Massachusetts paper The Republican makes note of a CBS News report on 'Boy Mayor' Alex Morse, the 22-year-old elected last week as the new mayor of Holyoke, Massachusetts.
CBS News left out the fact that Morse is gay. Maybe it's not important. It certainly wasn't important in his campaign, notes Jean Ann Esselink at The New Civil Rights Movement. Morse's sexuality was not made an issue of once.
Veteran San Francisco reporter Hank Plante sent along the CBS News clip to us, with this note:
"I guess one could make the argument that that's a good thing, and that his sexuality shouldn't matter. On the other hand, I feel that gays and lesbians — especially young gays and lesbians — need heroes.  And since the mayor-elect is open about his sexuality, I think it should have been part of the story.  After all, the mostly-straight voters said 'yes' to this young man, just as the mostly-white voters in America said "yes" to our first African-American president, and that's certainly significant. The broader issue, it seems to me, is that the next frontier in gay rights is the mainstreaming of gays and lesbians into non-gay stories.  The more we are portrayed as being part of the fabric of everyday life, the better we are."
Morse was also a Point Foundation scholar. Their website notes his work for LGBT rights. Morse also worked for out gay Rep. David Cicilline (D-RI) when Cicilline was mayor of Providence.
Watch, AFTER THE JUMP…