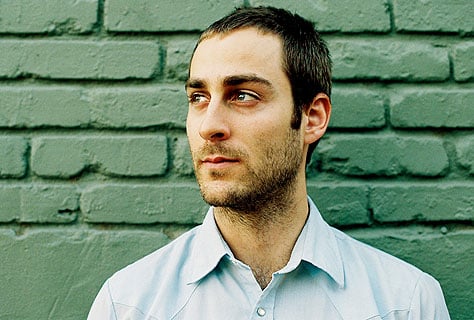 Norman Brannon is a pop critic, musician, and author based in New York City. He presents a weekly music update here on Towleroad and writes regularly at Nervous Acid.  
Follow Norman on Twitter at @nervousacid.
EXTENDED PLAY:
In the ten years since he began recording as Owen, Chicago native Mike Kinsella has managed to wage as idiosyncratic a career as reality will allow. His sixth album, Ghost Town, represents a synthesis of sorts — where complex folk and songs about fatherhood ("O, Evelyn") intersect with understated guitar solos and oddly innocent sexual suggestions ("Too Many Moons"). Kinsella's paradox, then, is not so much that he's conflicted as it is that he's integrated: Young male singers with acoustic guitars have a tendency to dwell in maudlin strokes of misanthropy, but Ghost Town is more playful than that. Even its tensest moment — on the vibraphone-assisted "No Place Like Home" — channels adult frustration through territorial playground innocence; its harshest pronouncement ("F*ck you and your front lawn") is too cute to generate any ill feelings. At a time when pop records mistake arrogance for empowerment, Ghost Town disarms us with a rare insightful humility.
Also out today: Atlas Sound — Parallax (4AD), Kaskade — Fire & Ice (Ultra), Etta James — Dreamer (Verve Forecast), James Blake — Enough Thunder (Universal), Tycho — Dive (Ghostly International), Various Artists — Gold Panda: DJ Kicks (!K7)
THE DISPATCH: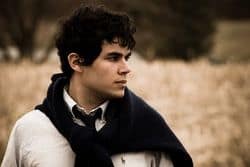 Vampire Weekend's prolific (and out) keys player Rostam Batmanglij offers up another new song via his Tumblr: "Don't Let It Get To You" crosses tribal tendencies and Eno atmospherics with tried-and-true pop hookery.

 Drake's new album features at least one unexpected collaboration: The title track, "Take Care," features Rihanna on guest vocals and British dubstep associate Jamie xx on production.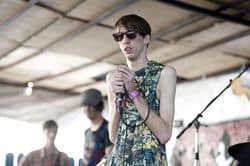 Deerhunter's Bradford Cox releases a new album under his Atlas Sound guise this week, and in a recent interview with Rolling Stone, Cox was decisive in his mission statement: "Hetero-centric, boring scruffy 20-year-olds are ruining the f*cking face of rock and roll," he said. So what's missing? "Queerness. Homoeroticism. Boyhood."

 The Museum of Modern Art has tapped Antony Hegarty to write, produce, and perform a "performance event" at Radio City Music Hall early next year: "Envisioned as a meditation on light, nature, and femininity, 'Swanlights' includes songs from all four of Antony and the Johnsons' albums set to symphonic arrangements by Nico Muhly, Rob Moose, and Maxim Moston."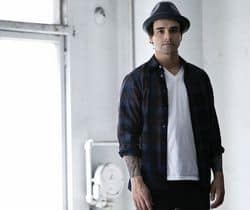 This week's essential new streams and downloads: Two songs from the forthcoming posthumous album by Amy Winehouse have leaked. Check out "Our Day Will Come" and "Like Smoke," which features a guest turn from rapper Nas. Dashboard Confessional's Chris Carrabba is offering a free four-song download called Covered in the Flood. The EP consists of reworked material from Big Star, The Replacements, and more. The first song from Nada Surf's forthcoming seventh album, The Stars are Indifferent to Astronomy, is called "When I Was Young." And Björk released a new clip for "Thunderbolt" as an exclusive video stream at Boing Boing.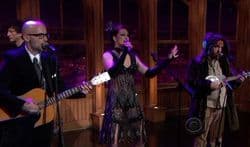 Dresden Dolls' Amanda Palmer invited acclaimed out singer-songwriter (and Magnetic Fields mainman) Stephin Merritt — in addition to Moby and author Neil Gaiman — to perform a Rocky Horror Picture Show classic for her appearance on the Late Late Show with Craig Ferguson. It's bizarre! But it was Halloween, of course.
SOUND & VISION:
Architecture in Helsinki — "W.O.W."
The latest single from Moment Bends is a stark, but effective electropop track that demands a stark, monochromatic video treatment. But don't interpret that to mean Architecture in Helsinki have gone dark: Nothing says feel-good like swimming with dolphins and coming in for the hug.
Matt Cardle — "Starlight"
Carpenter-turned-UK X Factor winner Matt Cardle recently performed at London's G-A-Y because, well, he knows the gays loved him from the second he showed up on TV in his plaid shirt and painter's cap. The video for Letters' second single, "Starlight," reads more like a counterpart to Katy Perry's "Fireworks" — sans the exploding bra — but the song is in the classic anthemic Britpop mold of Coldplay and Embrace.
Mates of State — "Sway"
"Sway" is the kind of ebullient indie-pop song you'd throw on at the beginning of a road trip, but for Mates of State, the song has something more to do with winding up in a Lewis Carroll–like world and meeting a moss-growing, blue-skinned man who is capable of giving you the prom you never had as a teenager. By the clip's end, you'll concede they have a point.
Simone Battle — "He Likes Boys"
The first US X Factor cast off to release a single, Simone Battle's "He Likes Boys" tells the story of a woman who has terrible gaydar, bathes in sequin singlets, and decides that having a "new gay best friend" is just as great as seducing him. It's convoluted! And awkward! But while I can't figure out whether or not the song is cute or condescending, I'm confident this won't be the last contemporary pop song written by people who watch way too much Will & Grace.