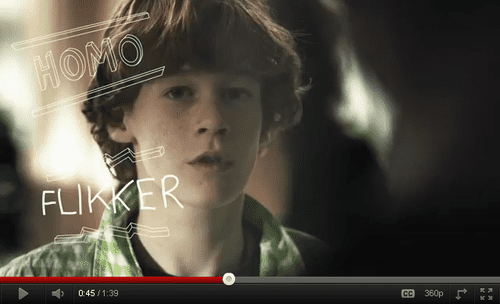 Dutch anti-bullying ads have really high production values, and really creepy sound mixing. Watch one here.

Michael Stipe explains it all in his first in-depth interview since REM's disbandment.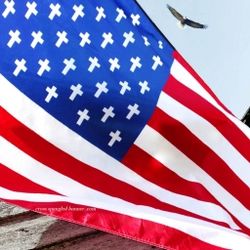 For a limited time only, you can get the cross-spangled banner for less than $50!
The Cross Spangled Banner Combines the World's Two Most Powerful Symbols to Reawaken the Virtue America has Forgotten … Well remembered for his "Give me Liberty, or give me Death!" speech, Patrick Henry said, "It cannot be emphasized too strongly or too often that this great nation was founded not by religionists, but by Christians; not on religions, but on the gospel of Jesus Christ." … The Cross Spangled Banner reminds people, both Americans and those abroad, of the Virtue that this Great Nation was founded on.

The Cross Spangled Banner measures 5.7' × 3' and is made of high quality nylon used for weathering the elements and holding its color.

At CNN.com, Paul Root Wolpe really doesn't want the government reading his mind:
The musings of my mind and heart are the most precious and private possessions that I have, the one thing no one can take away from me … Let them search my house, if they must, or take some blood, if that will help solve a case. But allowing the state to probe our minds ends even the illusion of individual liberty, and gives government power that is far too easy to abuse.

Catholic bishops gather in Baltimore to worry about their religious exemptions:
Among the bishops' top concerns are religious exemptions in states that legalize same-sex marriage. In Illinois, government officials stopped working with Catholic Charities on adoptions and foster-care placements after 40 years because the agency refused to recognize a new civil union law. Illinois bishops are suing the state. In New York, the bishops, along with Orthodox Jewish leaders and others, have complained that the religious exception in this year's law allowing gay marriage is too weak to be effective.

On health care, the bishops have been pressing the Health and Human Services Department during its public comment period for a broader religious exception to the provision in Obama's health care overhaul that mandates private insurers pay for contraception. Sister Carol Keehan, president of the Catholic Health Association, which broke with the bishops to support the administration's health care plan, said a proposed exemption is so narrowly written it would only apply to "the parish housekeeper."

Andrew Sullivan talks about God. Very, very slowly.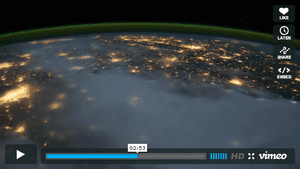 Hitchens' armistice musings on Kipling.
Our statecraft, our learning/Delivered them bound to the pit and alive to the burning.

Zynga to employees: Return unvested stock or you're fired.

DARPA wants to revolutionize computer sercurity.

Thanks to Phil Plait for finding this. This is Earth, in time-lapse, at night, shot from the International Space Station. Our home is very beautiful, and very strange. Make sure to watch it in full screen AFTER THE JUMP …
Earth | Time Lapse View from Space, Fly Over | NASA, ISS from Michael König on Vimeo.