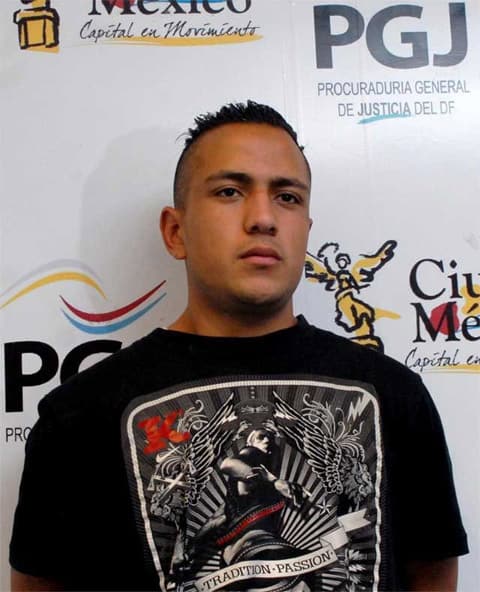 Yesterday I reported on the tragic murder of US Airways flight attendant Nick Aaronson, who was found bound and strangled in his hotel room in Mexico City. At the time it was reported that a man had been arrested.
That man is Jose Luis Ramirez, a convicted criminal out of prison on parole, also known by another alias, José Luis Cuellar, and a nickname (The Shadow), according to Mexican paper Excelsior.
Surveillance still images show the two men entering the hotel at the front desk and at the elevator bank.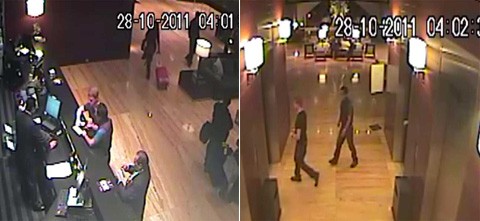 "Excelsior further reports that the footage shows the two men were stopped by hotel security upon entering the hotel, being assured by the victim that the man was a friend.  Hotel personnel then requested the additional guest be registered.  Ramirez was later apprehended by local authorities near the Cinema Club, a nearby gay bar where the suspect first met the victim, although he had shaved his head to change his appearance. Handwriting analysis later confirmed the identity of Ramirez as being the man who appears in the footage."
Reuters adds: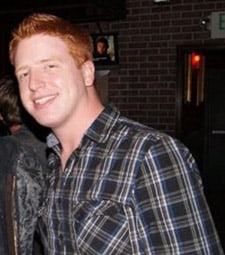 Ramirez, who has been in jail before, admitted to entering Aaronson's room and beating him. He shaved his head to avoid detection but authorities found him around the same bar in Mexico City's historical center where he and Aaronson first met.
Anita Aaronson, Nick's mother, poured out her emotion on her Facebook page, posting videos of the young redhead singing karaoke. She said on Sunday the Federal Bureau of Investigation called her to say her son's killer was in custody. "I can't stop thinking about my boy, he died in such an awful way, I keep thinking of his pain and fear," she wrote.
The motive for the murder was robbery, according to Mexico City prosecutor Miguel Angel Mancera, for which Ramirez had a previous criminal record. Ramirez was apprehended because he stole Aaronson's iPhone and authorites were able to track the suspect down using the GPS on the phone.
"When officers paraded Ramirez before journalists Monday, he told reporters that he had turned himself at the bar where authorities said he and Aaronson met. Ramirez said with profane language that he only punched Aaronson twice but insisted he did not kill the victim. He claimed a 15-year-old friend was responsible for the slaying of Aaronson, who was based in Phoenix, Arizona. Mancera said Ramirez will remain in custody of prosecutors before seeing a judge."
Our deepest condolences to Nick Aaronson's family, friends, and fellow employees.