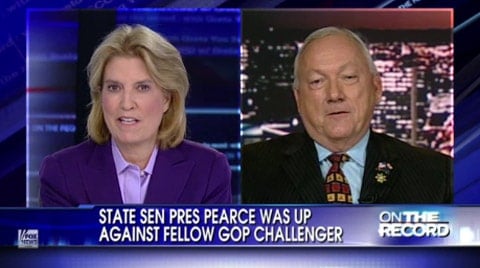 Arizona Senate President Russell Pearce went on Greta van Susteren's show on FOX Thursday night to whine about being beaten by fellow Republican Jerry Lewis in the recall election Tuesday, the Phoenix New Times reports:
Van Susteren asked Pearce whether he and Lewis are friends. He responded by launching into a tirade about recall elections, boy scouts, and homosexuals.
"That's a stretch. We're not enemies, but that's a stretch. It's just not true. He opposes SB-1070, he supports the Dream Act. He supports gays in Boy Scouts. He's endorsed by the Democrats. We are at opposite ends of this issue. So that's a stretch," Pearce says.
Watch, AFTER THE JUMP…
Via Kenneth Walsh, who writes:
I'm told by a reader in Mesa that his successor, Jerry Lewis, "is truly one of the nicest guys you would ever meet. Always smiling, upbeat, not a bad word ever spoken. A teacher/businessman. He's a Republican but Dems, independents, moderate Republicans and thinking-Mormons got behind him. What a coalition! The Pearce folks threw everything at him including a padlock to the crotch from a car when he was jogging. Lots of mud they even accused him from stealing used clothing off the backs of homeless kids. What a bunch of assholes."