The Supreme Court announced today that it would hear arguments on the constitutionality of the Patient Protection and Affordable Care Act this term, the AP reports: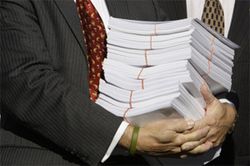 "The decision to hear arguments in the spring allows plenty of time for a decision in late June, just over four months before Election Day. This sets up an election-year showdown over the White House's main domestic policy achievement. The justices announced they will hear more than five hours of arguments from lawyers on the constitutionality of a provision at the heart of the law, the requirement that individuals buy health insurance starting in 2014 or pay a penalty, and other related questions about the act."
Bloomberg adds: "The court will wield unprecedented influence over the presidential election campaign, with a decision in the case likely in late June, months before the election. The eventual ruling may define Chief Justice John Roberts's court, either as an aggressive enforcer of the constitutional constraints on Congress or as a nonpolitical body inclined to defer to the elected branches on policy questions."
The White House expressed confidence. Said Dan Pfeiffer, White House communications director: "Thanks to the Affordable Care Act, one million more young Americans have health insurance, women are getting mammograms and preventive services without paying an extra penny out of their own pocket and insurance companies have to spend more of your premiums on health care instead of advertising and bonuses. We know the Affordable Care Act is constitutional and are confident the Supreme Court will agree."