07 Beefcake Instead of Turkey?
If turkey on your plate isnt enough for you, you'll get plenty of thigh and breast in Tarsem Singh's THE IMMORTALS which is still playing. If you're staying in instead of hitting the multiplex, Dominic Cooper's fleshy backside [NSFW] is freshly available on DVD in THE DEVIL'S DOUBLE.
06 Psychosexual Therapy
After you're done ogling the meat, you can psycho-analyze your own desires with the help of Viggo Mortensen as Sigmund Freud and his pent up protege Michael Fassbender as Carl Jung in David Cronenberg's A DANGEROUS METHOD, the origin story of psychoanalysis. Keira Knightley is their crazy jaw grinding guinea pig; she likes to be punished.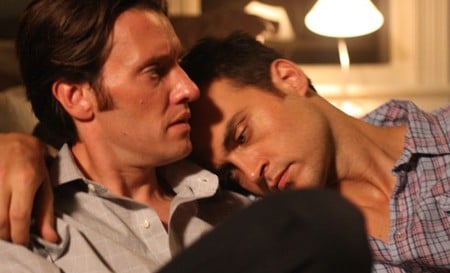 05 Four Gay Films To Choose From
If you're lucky enough to have WEEKEND (see previous interview) playing in your town, it's just as rich the second time. If you're staying in, three new gay appeal films recently hit DVD: Mike Mills' BEGINNERS (previously reviewed) is a wonderfully moving semi autobiographical tale of an artist (Ewan McGregor) who's septegenarian father (Oscar bound Christopher Plummer) comes out of the closet; MAKING THE BOYS charts the origins of the seminal gay drama Boys in the Band; and THE GREEN which stars Jason Butler Harner (Changeling) and everyone's favorite gay Broadway hottie Cheyenne Jackson (30 Rock) is about a gay teacher accused of misconduct with a male student.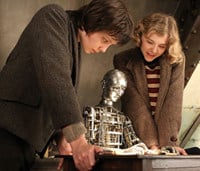 04 "Come dream with me"
If you've ever thought of the movies as dreams, adventures, or shared memories… if you've ever romanticized the movies at all, you should probably see Martin Scorsese's HUGO. 
03 Best Actor Oscar Mania 
If you have the time to take in multiple movies this weekend you could theoretically get a huge headstart on your office Oscar pool. A triple feature of THE ARTIST, THE DESCENDANTS, and MONEYBALL (if you haven't yet seen it) will get you 60% of the Best Actor lineup to come; Dujardin, Clooney, and Pitt are  the only "locks" right now. Michael Shannon (TAKE SHELTER), Woody Harrelson (RAMPART) with Leonardo DiCaprio (J EDGAR) are also in theaters battling it out for future Oscar favor so start seeing the movies and placing your bets. 
02 The Return of The Muppets
Sure to leave both children of the 1970s and children of the now grinning from ear to ear.
01 The Artist
This French film about Old Hollywood movies sounds like a novelty (yes, it's a silent movie) but it's closer to an instant classic. The storyline, about how the birth of sound movies, shook up Hollywood, risks comparisons to Singin in the Rain one of the greatest films ever made. But it's so funny and charming that comparison doesn't feel blasphemous at all. From my review. 
"The Artist in concept could have been a mere spoof, or a pleasant but insubstantial comic homage but writer/director Michel Hazanavicius and his gifted team never settle, always reaching for bigger laughs, and delivering unexpected and immensely clever mise en scene. The actors are magicians, too."
It's the year's best movie so far. Go see it!