Three suspects arrested for the beating last month of Reno, TX gay man Burke Burnett have been charged, the Dallas Voice reports: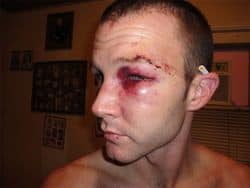 The victim, 26-year-old Burke Burnett, said he was notified by the Lamar County District Attorney's Office on Thursday, Nov. 10 that his attackers will face hate crimes enhancements in the case. The Paris News reported on its website Thursday that a Lamar County grand jury indicted the suspects on three counts each of aggravated assault with hate crimes enhancements. Two of the three suspects will also face enhancements as repeat offenders.
Aggravated assault is a second-degree felony punishable by up to 20 years in prison, but the hate crimes enhancements would bump up the charges, making them first-degree felonies punishable by up to life in prison.
Burnett's attackers stabbed him with a broken beer bottle before throwing him onto a fire. His attackers hurled ugly anti-gay slurs as they beat him.