Tracy Morgan wishes rapper T.I. would keep his mouth shut, Rob Shuter reports: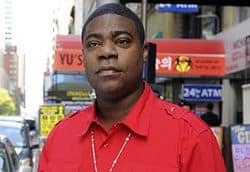 "Tracy wishes T.I. would just shut up," a friend of the "30 Rock" actor tells me. "It has not only picked the scab off a very ugly wound, it has also put Tracy in a very difficult position. Does he issue a statement distancing himself from T.I. or does he say nothing?"
The comments that have Morgan straddling the fine line between staying under the radar and fighting back came from T.I.'s interview with Vibe, in which he referenced an off-color remark about gay men as "the funniest joke I ever heard Tracy say."
T.I. then suggested that the backlash against Morgan's stand-up routine was un-American.
Previously…
T.I. Tells TMZ He Stands By His Comments: VIDEO [tr]
T.I. : Celebs Should Be Able to Speak Against Gays Without Being 'Shut Down' [tr]