Tracing the Tree points us to this encouraging story out of American Samoa.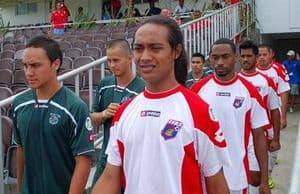 ESPN reports:
Defender Johnny "Jayieh" Saelua helped the Samoans (center, right), ranked 204th, beat the mighty Tonga, ranked 202nd, 2-1 in an Oceania 2014 World Cup qualifier to end a run of 30 consecutive defeats. And, during the jubilant scenes that greeted the final whistle, head coach Thomas Rongen declared: "I've really got a female starting at centre back. Can you imagine that in England or Spain?"
Although that's not strictly true as Saelua is part of the fa'afafine – biological males who have a strong feminine gender orientation and identify as a third sex that is widely accepted in Polynesian culture. However, the defender was raised as a woman and said after the match: "The team accept me and we have that mutual respect. Which is great. It's all part of the culture."
Brilliantly, Saelua was also named 'Man of the Match' after providing an assist and making a goal-line clearance in the dying seconds of the game.