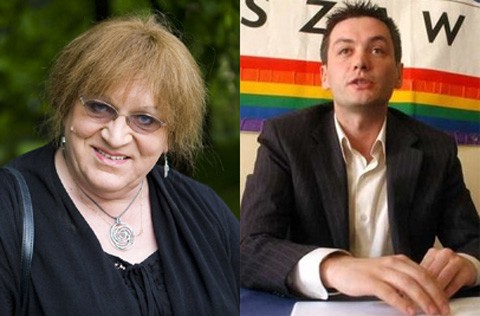 In what the AP is describing as a reflection of "profound social change," in Poland, an opennly gay man and a transgender woman have taken seats in that nation's parliament:
Anna Grodzka, who was born a man but underwent a sex change operation, entered the assembly hall wearing a burgundy skirt and jacket. Several men and women shook her hand, while one male lawmaker kissed her on the cheek.
Grodzka then took a seat next to Robert Biedron, a leading gay rights activist who is the first openly gay person to be elected to parliament. Both belong to Palikot's Movement, a new progressive party that became the third-largest party in parliament in Oct. 9 elections.
Palikot's Movement has vowed to push for liberal causes. It opposes the power of the church in society, promotes gay rights, and wants to challenge the country's near-total ban on abortion.
Poland: Transsexual and openly gay man take seats in new parliament in sign of historic change [ap]