On Monday I posted about the brutal attack on Burke Burnett in Reno, Texas. Burnett said he was attacked by four men at a private party early Sunday morning. The men stabbed him with a broken beer bottle before throwing him onto a fire. His attackers hurled ugly anti-gay slurs as they beat him.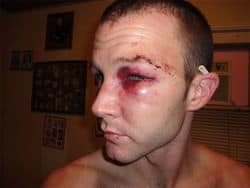 Two men have been arrested, the Dallas Voice reports:
Reno Police Chief Jeff W. Sugg announced in a two-sentence statement this morning that Daniel Martin and James "Tray" Mitchell Lasiter have been arrested in the beating of 26-year-old Burke Burnett…Reno police spokeswoman Alicia Myrick told Dallas Voice that Martin and Lasiter are charged with aggravated assault with a a deadly weapon, causing serious bodily injury — a first-degree felony punishable by five to 99 years in prison. According to Sugg's statement, the investigation is ongoing. Myrick said it will be up the Lamar County District Attorney's Office to determine whether the case is prosecuted as a hate crime."
The case is unlikely to be prosecuted as a hate crime, according to the Voice, because "there is no penalty enhancement for a hate crime if the offense is a first-degree felony…" It will be up to the Lamar County District Attorney's Office to decide whether to prosecute it that way.
Previously…
Gay Man Stabbed, Beaten, Burned in Rural Texas [tr]