Zimbabwean PM Morgan Tsvangirai has caused an uproar from conservatives in his country over his recent show of support for protecting gays in the consitution.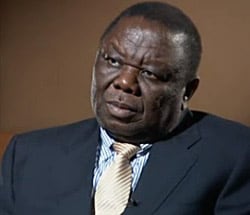 Said Tsvangirai in a statement today clarifying his position:
"I want to put finality and closure to an issue that has been misinterpreted, the issue of the so-called gay rights. My beliefs on this issue are a matter of public record. My beliefs manifest themselves in my practice. I am a Christian associated with the Methodist church. I am a father. I am a grandfather. I am a family man. I am a Zimbabwean and I know the strong feelings of Zimbabweans about this issue. I have those strong feelings too but in the end, Zimbabweans are making their own Constitution and it is that Constitution which will bind every Zimbabwean. What I refuse to do as a loyal son of God and as a social democrat is to persecute, to judge, to condemn and to vilify people for their own opinions because judgment is a preserve of God the Almighty. The Book of Luke Chapter 6 verse 37: "Do not judge and you will not be judged, do not condemn and you will not be condemned. The Book of John Chapter 8 verse 7:  "If any one of you is without sin, let him be the first to throw a stone… So while I may differ with them, as a Christian and as a social democrat, I refuse to throw a stone at them."