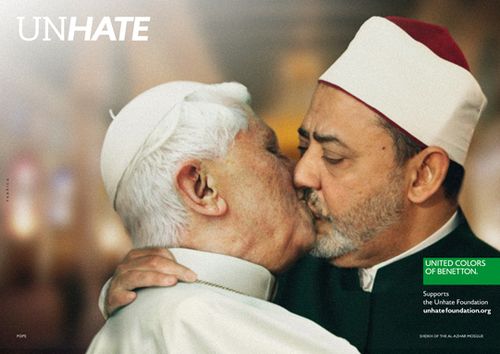 The new Benetton ad campaign I posted about yesterday has the Vatican furious and they're planning legal action to stop use of an ad featuring Pope Benedict kissing an Imam, Reuters reports:
A statement said the Vatican had told its lawyers in Italy and around the world to "take the proper legal measures" to stop the use of the photo, even in the media. It was not clear from the statement if the Vatican intended to sue Benetton directly for damages.
The statement said the ad was "damaging to not only to dignity of the pope and the Catholic Church but also to the feelings of believers."
Said spokesman Father Federico Lombardi said on Wednesday night: "This is a grave lack of respect for the pope, an offence against the sentiments of the faithful and a clear example of how advertising can violate elementary rules of respect for people in order to attract attention through provocation."
Other ads feature Obama kissing Chinese leader Hu Jintao and Venezuelan dictator Hugo Chavez, and French President Nicolas Sarkozy kissing German Chancellor Angela Merkel.